December 2021 Convening – Raising the Floor on Nets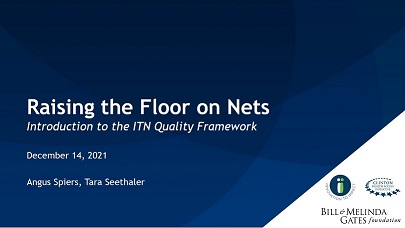 I2I is proud to be partnering with the Bill and Melinda Gates Foundation (BMGF) and the Clinton Health Access Initiative (CHAI) to co-host a convening addressing issues pertaining to ITN quality and performance.
The convening, from the 14-16th December, brings together stakeholders from across the ITN product development and delivery spectrum. Consisting of manufacturers, procurers, country programs, implementation partners and WHO the convening aims to discuss perceptions, challenges and successes in ITN development and quality management. Our goal is to identify potential to improve performance of ITNs, build trust in these products and the quality processes that surround them
I2I and CHAI opened the meeting on December 14th by presenting an overview of the key issues, with further presentations from WHO Prequalification Vector Control Team, representatives for manufacturers and procurers before a report out on the recent Global Fund review of ITN efficacy.
As the meeting continues, we are working to build a clear roadmap to assure ITN quality and improve performance to be built upon in future meetings in 2022 and beyond.
Download Opening Presentation and 1st Convening Summary Presentation.